Paul Brown Stadium Seating Chart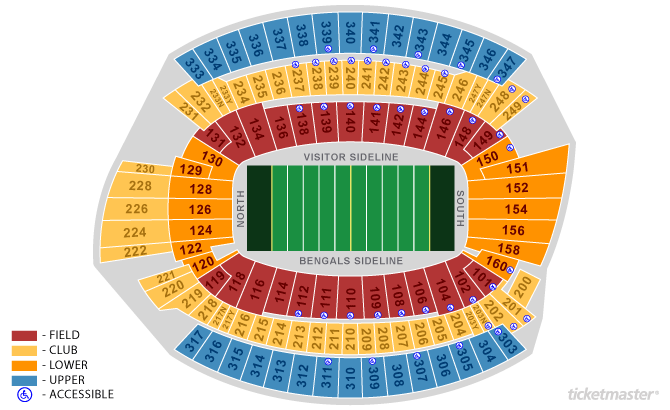 NOTE: Seating configurations can change depending on the type of event. Always check the individual event seating chart when selecting your tickets.
Premium seating options are available in 114 private suites and 7,600 club seats. Amenities include in-seat food and beverage service and access to the club lounges for fine dining options. These seats are located in the 200 level right in-between the upper and lower levels.
The Cincinnati Bengals bench is located in front of Sections 109-111. Where else, the visiting team's bench is located in front of sections 139-141.
The best seats for a Cincinnati Bengals game are located in the 100 level (row 10 and up) and in the 200 club level (first 10 rows). Seats in these areas will provide optimal views to see all the plays develop from either side of the field.
Secure your seat today by purchasing your tickets. Visit the Paul Brown Stadium schedule to get started.
To view the ticket & refund policy please read the ticket information page.